Digital Marketing | Leave it to the Pros
It's no secret now in 2016, if you want to expand your business and boost sales you
will need to make an online presence that is engaging and memorable. Even your great
grandmother knows that the age of the internet has changed how the world turns. Heck
even my 78 year old Baba (grandmother in Bulgarian) uses her tablet to facetime us from
Eastern Europe. The point being is you need to adapt with the times or be left behind. You
can have an amazing product that is stronger better looking and less cost then all of the
competition but if no one is able to view your product online and engage with it then it is
worthless. Joe smoe over there can have an average product but he makes a unforgettable
experience online allowing viewers to engage and interact with the product which leads to
more conversions and sales.
If you haven't caught the message that I am trying to ignite yet its very simple,
INVEST IN YOUR DIGITAL MARKETING! Properties with 3D Tours see 49%
more leads and 3 x's the amount of time spent on site. (apartments.com) Just
that fact alone should have you jumping out of your seat asking how when and where do I
do this 3D Tour? The REA Group says that buyers are 95% more likely to call
and 60% more likely to email about properties with 3D Tours.
Didn't your elders ever tell you, "What you put in is what you get out". This goes hand
in hand with digital marketing, if you go half throttle you are going to get a half throttle
response. You want to create a brand that has a powerful full throttle reputation that will
not only generate more leads and sales in the short term but build a name and foundation
for your marketing future! You wouldn't put cheap gas and oil into your new Mercedes
Benz right? Then don't cut corners and be cheap in your marketing tactics.
DIY is not the way to cut corners when it comes to real estate photography.
Property's marketed with professional photography
--Sell up to 3 weeks faster
--Sell for up to $11,000 more
--Are up to 44% more likely to sell above list price
--Are up to 17% more likely to sell within 6 months
If a seller has to choose between a realtor that uses professional photography versus a
realtor that is a DIY smart phone type, they are more then likely to go with the realtor that
has a relationship with a professional photographer. Their home is a big investment and
they want it marketed to the best of your ability. Plus with all of this competition on the
market, you may only have one chance to impress a quick browsing viewer so make it
count with a professional!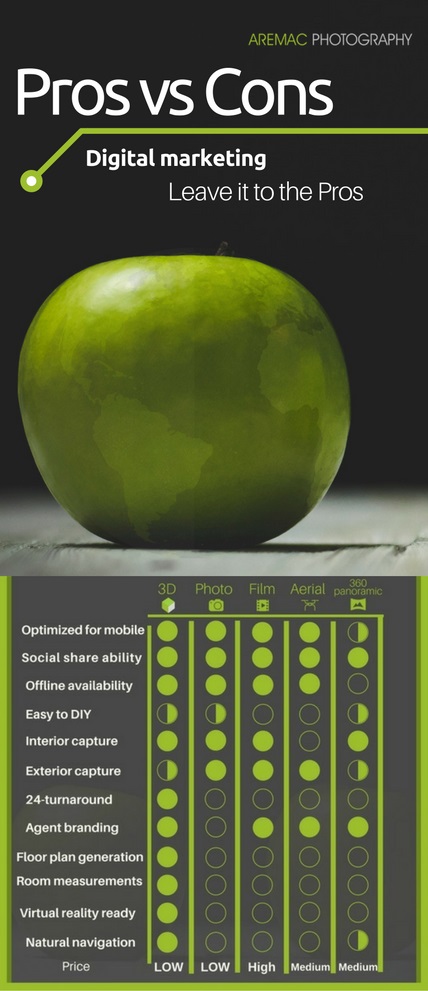 Please follow and like us: